<!–– /central space ––>
Executive Biography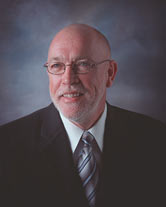 William D. Mensch, Jr. is Founder, Chairman, and CEO of The Western Design Center, Inc. (WDC). He holds twenty– two patents for microprocessors, microprocessor peripheral devices and microprocessor systems, and was recognized in both 1991 and 1996 at the Microprocessor Forum as a pioneer in the microprocessor industry. Mr. Mensch's patents were used on Motorola's original NMOS 6800 microprocessor and MOS Technology's NMOS 6502 microprocessor families. The 6502 technology has been credited with creating the PC and video game industries. It was first used in the Commodore PET personal computer; Vic 20 consumer computer; Commodore 64 consumer computer (6510); Acorn personal computer; Apple I personal computer; Apple II personal computer; Atari video game system (6507) and personal computer (6502); and Nintendo video game system. The 6502 microprocessor is featured in a display in the Smithsonian Museum of Science and Technology in Washington DC.

Mr. Mensch's solely– owned patents are implemented in The Western Design Center's proprietary CMOS 65xx Microprocessor family of chips and related systems. This technology is used today in an ever growing variety of products including medical life support, automotive, industrial, consumer and personal computers. The foundation for this widespread use of the technology began when two of WDC's 65xx Microprocessor family members were used in the introduction of groundbreaking PC and video game products. The W65C02S 8–bit microprocessor was first used in the Apple IIc personal computer and the Apple IIe personal computer. The W65C816S 16–bit microprocessor was first used in the Apple IIgs personal computer and Super Nintendo video game system.

In the fall of 1996, Mr. Mensch was honored for his outstanding contribution to the information technology industry at a ceremony during which the 6502 was recognized at COMDEX as the first of seven "defining" products in the twenty–five year history of the microprocessor. He has become recognized as the person most responsible for the continued success and proliferation of use of the 65xx technology which has been enhanced and expanded with the development of the WDC 65xx Microprocessor family products.

Mr. Mensch was born in 1945 and grew up on a dairy farm in Bucks County, PA. He attended Pennridge High School in Perkasie, PA, and graduated in 1963. He graduated from Temple University (AEET 1966) in Philadelphia, PA, attended Villanova (Spring/Summer 1968 & Spring 1969), graduated from the University of Arizona with High Distinction (BSEE 1971) in Tucson, AZ, and then attended Arizona State University graduate courses (1971–79).

Mr. Mensch was employed at Philco Ford in Blue Bell, PA (1967–69), Motorola in Mesa, AZ (1971–74), MOS Technology in Norristown, PA (1974–77), and Integrated Circuit Engineering (ICE) in Scottsdale, AZ (1977–78), before founding The Western Design Center, Inc. in Mesa, AZ (1978–present).

From 1985 to 1988, Mr. Mensch was a member of the Board of Directors for Mesa Bank, a local community bank. Mr. Mensch was also a member of the Board of Directors for TouchScape (1999–2001) and DotSafe (2000–2001), two Internet companies.

In 1997, he was the keynote speaker at the world's first IP (Intellectual Property) conference, IP Europe. He participated on a special panel discussion session concerning "Starting Up Companies to Commercialize University– Generated Technologies" at the ICEE– 2000 conference in Taiwan in August, 2000, which was attended by approximately 500 professors from all over the world.

While attending the University of Arizona, he was awarded a scholarship by the Tucson Gas and Electric Company. In 1985, he received the Certificate of Honor from Temple University's College of Engineering and Architecture and has been recognized at both Temple University and the University of Arizona as an outstanding alumnus. In 1994, Mr. Mensch was named to the College of Engineering Advisory Council at the University of Notre Dame. In 1995, he was appointed to the Industrial Advisory Board for the Electronic Computer Technology Department in the College of Engineering and Applied Science at Arizona State University . In 1996, he joined the Industrial Advisory Board for the newly created Center for Low Power Electronics (CLPE), of which WDC is a charter member. In 1999, in conjunction with the CLPE, the National Science Foundation (NSF) provided an SBIR grant to WDC and the University of Arizona for development of a low power mixed signal rapid prototype system designed around the 65xx technology. From 1994– to 2000, Mr. Mensch assisted in teaching a class in System–On–a–Chip (SOC) IC Design at Arizona State University. He was chosen to receive the Distinguished Alumni Leadership Award from Temple University in April 1998. In August of 1998, he received the Sigma Pi International Fraternity's Founders' Award its highest individual award. In May 2002, Mr. Mensch was inducted into the Pennridge High School "Wall of Fame" as an outstanding graduate. The Computer Museum of America inducted Mr. Mensch into its Hall of Fame in June of 2002. In 2004 Mr. Mensch was invited to be a charter member of two advisory boards for Temple University (1) the inaugural Board of Visitors for the College of Engineering and (2) the Inaugural President's Advisory Board. On December 8, 2005, Mr. Mensch was recognized by the University of Arizona's College of Engineering as the 2005 recipient of their Lifetime Achievement Award at a luncheon to honor technology and business executives who have made a lasting contribution to Arizona's economy. Here is a link to his acceptance speech. He became a member of the Industry Advisory Council for the College of Engineering at the University of Arizona in 2006.

In January, 2004, the book Leaders of the Information Age identified Mr. Mensch as one of 250 individuals dating back to the 15th century who set the foundation of today's Information Technology industry. (See www.hwwilson.com/print/leaders_info.cfm for a complete list.) Numerous other articles have been written about Mr. Mensch. He was featured in the "Success" section of the January 1, 2006 issue of the Mesa tribune . In February, 1999, Jonah McLeod, the Editor–in–Chief of Silicon Strategies , wrote an editorial entitled "What's the Proper Goal for an IP Business Model?" that highlighted Mr. Mensch's pioneering efforts concerning microprocessor IP. The June, 1998, Forbes ASAP magazine cover story article "The Chips We Live By" featured his contribution to the microprocessor industry. An article in Silicon Strategies , also in June, l998, chronicled Mr. Mensch's pioneering approach to IP integration. Other articles include Temple University's Temple Review (Winter 1992) as well as Temple's Conwell Society Newsletter (Winter 1994), University of Arizona's Arizona Engineer newsletter (Fall 1995), Commodore World magazine (January 1996), and Arizona Business Gazette newspaper (July 1996). He was also featured in a book titled Which Business?: Help in Selecting your New Venture, published in early 1997 and was mentioned in Microcosm: The Quantum Revolution in Economics and Technology, a book written by George Gilder in 1989.

Papers written and/or presented by Mr. Mensch include (1) "System–on–Chip Design Methodology in Engineering Education" presented at ICEE 2000 in Taipei, Taiwan, August, 2000; (2) "Analog Digital Development Board for Prototyping Mixed Signal Circuits" presented at MIXDES 2000 (Mixed Signal Design Conference) in Lodz, Poland, June, 2000; (3) "Behavioral Level Analog Synthesis Targeted to Field Programmable Analog Arrays" presented at MIXDES 2000 in Lodz, Poland, June, 2000. In 1998, Mr. Mensch wrote an article entitled "A Business Model for IP Providers" which was published in the newsletter for the Fabless Semiconductor Association (FSA).

Mr. Mensch has established educational scholarships at Xavier College Preparatory in Phoenix, AZ, Pennridge High School in Perkasie, PA, Temple University in Philadelphia, PA, and The University of Notre Dame in South Bend, IN. His most memorable "non– technical" achievement was completion of the inaugural running of the Washington D.C. Marathon in March of 2002 at the age of 58.

Mr. Mensch has five children. He currently resides with his wife, Dianne, in Superstition Mountain, Arizona.


Organizations of which Mr. Mensch is a member include the following:
Member,
Tau Alpha Pi
, National Honor Society
Member,
Tau Beta Pi
, National Honor Society
Member,
Phi Kappa Phi
, National Honor Society
Senior Member,
IEEE
Member,
Sigma Pi International Fraternity
Contributing Member,
The Newcomen Society of the United States
Member, the Baden Guild,
The University of Notre Dame
Member, the Sorin Society,
The University of Notre Dame
Member, the Da Vinci Circle,
The University of Arizona
Member, the Conwell Society,
Temple University
The Mensch Computer
Mr. Mensch designed the
Mensch Computer
in the early 1990's, a solid state computer (only
PCMCIA 1.0 memory cards
for mass storage instead of a disc drive) and LCD display as a reference system design for the features of the
W65C265S
Microcomputer MCU). The W65C265S has four UARTs along with many other integrated features. UARTs were standard serial interfaces at that time and now would be replaced by Universal Serial Bus (USB) interfaces today. The
Mensch Computer Developer Guide
can be downloaded from the
Documentation
page. Mr. Mensch no longer sells the Mensch Computer; however, he continues to loan these out or give them away to "qualified students of technology".